Cars Circuit Adventure™ 2 Years+ Mechanical Entertaining Toy
The best games for your kids - based on their parents' recommendations
In a world where screens are pushing away children's natural creativity, it's up to you to create a better future.
Get your child back on track with Cars Circuit Adventure™! Featuring world-renowned game characters, this game is sure to keep your child entertained and on their toes. It's designed to be educational while giving them a fun adventure.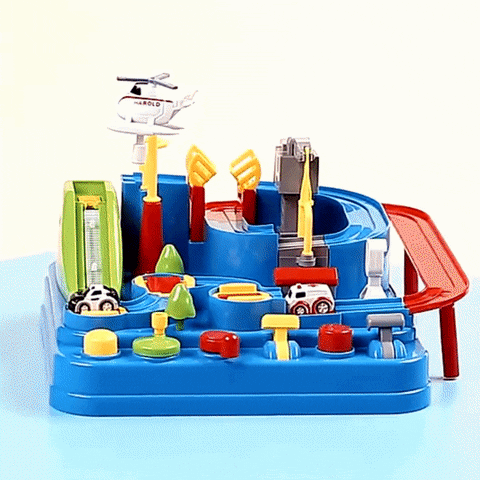 Introducing a new generation of entertainment that has never been done before!
Boost their self-esteem with recognition and praise 🧠 
For kids who love cars, Cars Circuit Adventure™ is the game that can unleash their inner skills to be the best driver. With multi challenges to take on, kids will be entertained for hours with this game. And because it's so much fun, parents don't have to worry about them getting frustrated and not keeping up with the game. So, it's time to hit the road and show your skills!

BUILDS CHARACTER & A ROCK-SOLID CONFIDENCE
 😎
What's your child's favorite thing to do? Win, of course! There's something about passing a challenge that makes you feel like such a champ. Combine the thrill of victory with the joy of driving with Cars Circuit Adventure™. This track challenges kids aged 4 to 10 to complete tasks and pass obstacles just like in real life. 
8 CHALLENGES TO KEEP THEM BUSY ALL DAY
⏱
Your child deserves the best, and you can give them that with Cars Circuit Adventure™. It's a fresh new take on the classic toy car. Unlike traditional cars, it doesn't need an outlet to charge. And with 8 different challenges, your child will never get bored! The mini-cars are designed to be tough and durable. And with 6 different control buttons, your child can take their adventure to the next level.
SAFE MATERIALS & ROUNDED EDGES
 👶
Made of high-quality ABS plastic material, non-toxic water-based paint, and polished smooth edges so you never have to worry about your child's safety. It is also 100% mechanical, making it battery-free.
BRINGS FAMILY TOGETHER AND ENHANCES THE PARENT-CHILD BOND

 👪

Playing Cars Circuit Adventure™ with your kids is proven to improve the parent-child relationship and create lasting memories. Your kids will love playing it with friends and family, too! Playing it together can be a great way to provide your child with their daily dose of family connection and teamwork.
A GIFT THAT NEVER FAILS TO AMAZE

🎁

The best car adventure of all time! Get your kids' hands on the only toy that combines driving with rescuing. Kids will love driving their way through the twists and turns of this obstacle course, yet they'll also be learning about team building, problem-solving, and responsibility. Our family-friendly entertainment is worth it for hours of uninterrupted playtime.
WHAT WILL BE INCLUDED IN THE PARCEL?
HOW TO ASSEMBLE IT?
FAQs
Q - What is the appropriate age for playing this game Cars Circuit Adventure™?
A - 3 Years Old and up (CHOKING HAZARD-Small parts. Not for children under 3 yrs)
Q - What are the dimensions of the toy?
A - The toy dimensions are 26 cm x 27 cm x 20cm
Q - Does it need batteries?
A - It is 100% mechanical so no batteries are needed
Q - Approximately how long does it take to put it together?
A - It is very easy to set up and takes less than 5 minutes
Cornerket™ understands that not every purchase is perfect and we want to make sure you're taken care of! We offer easy returns for all domestic and international orders within 30 days of delivery, just send us an email at support@cornerket.com and we'll be happy to assist you.
It's more important than ever to be able to try new things without risking your money. That's why at Cornerket™, we're proud to offer you a 30-day guarantee on our products with no risk. We've spent the time so you don't have to. If you don't love what you experience with our store, just let us know within 30 days, you
send it back and we'll refund your order so you can buy something else!
We've got you covered. Shop at Cornerket.com today for a risk-free, hassle-free month.